Water Repellents
Clues for keeping water out
Humidity is the main cause of almost all damages in building materials. Due to porous surfaces of structure materials, moisture and dissolved polutant substances penetrate into that pores with capilary absorption. This situation causes deteriotion on reinforced concrete steel bars, salt attacks or freeze-thaw deformation.
When moisture penetration is hindered, damages on materials decrease. So, how are moisture penetration  hindered? With water repellent, also known as "Hydrophobation", using Protectosil® structure protection products can give outstanding results. Protectosil® water repellent products penetrate directly into surface. Thus, water can be kept out and water vapor permeability can be provided.
Deep hydrophobation for most suitable protection
Water repellent molecules of Protectosil® are smaller than the surface pores. When this situation and low viscosity are considered, water-repellent molecules penetrate deep into structure materials and react with inner wall pores. While water penetration into pores are hindered, in the same time, water vapour can pass through pores. Structure is breathable with this way. Photos down below show simplified examples.
There are two main adventages comes with deep penetration. UV lights and mecanic effects do not damages. Silicones and siloxanes are bigger then 20nm, so they can not penetrate easily and have damage casued by streching.

Protectosil® hdrophobic productions creat deep barier against water. Efficiency of Protectosil® products is not considered with pilling effect. It depents decrease of water amout. Observing their nondestructive effects can be tested on existing structures with Karstens (or Rilem) tubes. Water based ink with using core drill is another test method to determine depth of penetration.
Succes of water-repellent product on surfaces exposed high traffic
Water penetration level into concrete was measured before and ten year after exposing high traffic.
How high decrease of water penetration level means that much protection on surface in 10 years.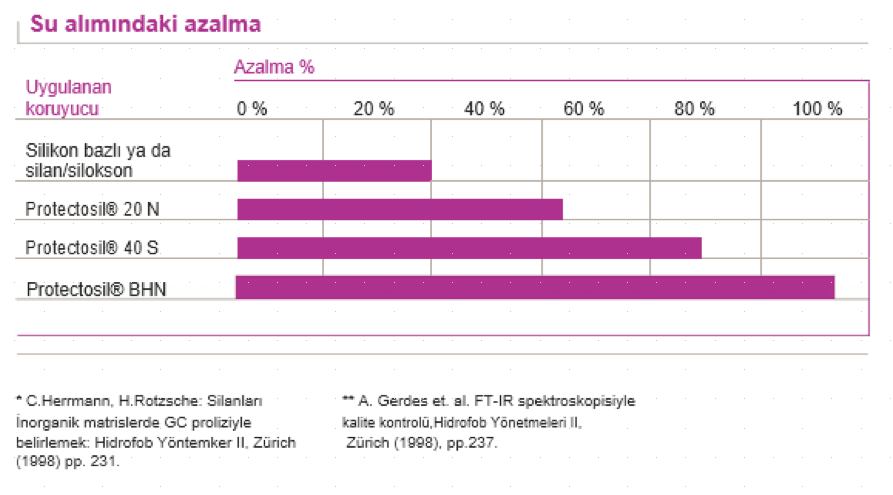 Products
Protectosil® 008 ; It is a water repellent product especially suitable for exterior place concrete zero-VOC, durable against frost, highly reactive
Protectosil® 009 ; water repellent with zero-VOC, durable against frost. Suitable for concrete and other porous mineral structure surface with excelent pilling effect.
Protectosil® 100 ; suitable for bridges, harbours, ceramic tiles,clinker walls zero-VOC, colourless, durable against frost, water repellent material.
Protectosil® 100 N; designed for mineral materials of structure on exterior places, monomeric, silane based, colourless, zero-VOC water repellent.
Protectosil® 100 SK, it is a oligomeric silocsane which is suitable for mineral surface, has pilling effect, provides water permeability, high performance, low VOC level.
Protectosil® 100 NK; suitable for structure with porous mineral material, has pilling effect
Protectosil® 266; suitable for masonry structure, silane/silocsane based, light yellow, durable against frost, colourless water repellent.
Protectosil® 40 S ; water repelent suitable for especially absorber mineral frontage material of buildings
Protectosil® 60 SK; silan based water repellent, pilling effect, high performance
Protectosil® 800 ; suitable for mineral structure material on exterior places, low voltaite and viscous level, water repellent.
Protectosil® 871 ; It is suitable material for brick, burnt soil and other clay materials and it is resistant against moisture. It doesn't contain methanol, combustibles and volatile organic materials.
Protectosil® BHN ; water repellent suitable for exterior, can apply on concrete, clinker walls and ceramic tiles, low VOC  level, eco-friendly. It has high penetration depth.
Protectosil® WS 328 ; excellent pilling effect, absorber Mükemmel bir damlacık efektine sahip olan, emici, mineral yüzeylerde kullanılabilen organomodifiye siloksanlara dayanan, VOC değeri düşük bir su iticidir.
Protectosil® WS 405 ; it is a organofoctional silane based water repellent for absorbent and mineral surface.
Protectosil® WS 405 A ; it has excellent droplet impact, suitable for absorbent and mineral surfaces, is organofonctional silane based water repellent.
Protectosil® WS 410 ; it is organofonctional silane based water repellent, suitable for porous mineral materials such as, limestone walls, concrete, aerated concrete, roof tiles and mineral insulating material.
Protectosil® WS 600; is water repellent, suitable for porous material surfaces such as sand-limestone brick, hard burnt brick, and contains low VOC level
Protectosil® WS 610 ; suitable for mineral structure materials, zero VOC, organofunctional siloksane and water based water repellent. It creats droplet impact on surface.
Protectosil® WS 700 P; it is a pasty water repellent for high alkaline surfaces such as concrete. It allows to deep penetration.
Paylaş: